Kathmandu- Salleri Jeep/Bus ride
---
Kathmandu-Salleri Bus/jeep ride is the best alternative to connect Namche when the flight is postponed or delayed. Normally, during cloudy weather in winter, the Lukla weather gets worse and the tourists even have to wait sometimes for 4-5 days. Sometimes, the problem gets worse and the flights are cancelled. In this case, some tourists pay for helicopter and some try to find the alternative to go to Everest region. Those who cannot pay, of course, have to go with a jeep to Salleri. Not only in case of postponement or cancellation of Lukla flight, we can use Kathmandu-Salleri Bus/jeep ride service all the time. However, this jeep service cannot provide tranasportation during summer because the condition of the road is bad and dusty. This bumpy road gets muddy and damaged by the heavy rainfall during summer.
It is around 10 hour's jeep drive to get Salleri from Kathmandu. The distance from Kathmandu to Salleri 266.9 km. Previously, the jeep or bus would go only up to Jiri. Jiri was considered to be the gateway to the Everest Region by road. But now, the roads in the remote areas are opened and the tourists can use jeep service to Salleri from Kathmandu. Even, the legendary climbers, Sir Edmund Hillary and Tenjing Norgay Sherpa followed the same trail from Jiri to Everest Base Camp.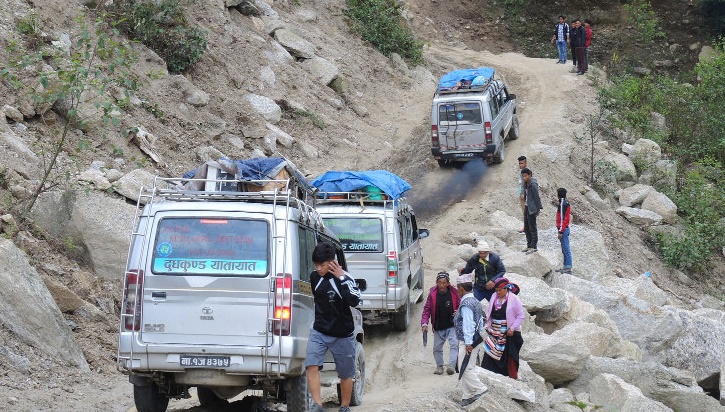 It is well conditioned jeep since the jeep has to face the bumpy village road at the end. One jeep for Salleri from Kathmandu can be shared by 7/8 people. For this, the cost of the Kathmandu-Salleri Bus/jeep ride will be 30 USD per individual. This cost does not include your food. You need to pay for your food yourself. You have your breakfast at the hotel in Kathmandu and lunch at some local teahouse or restaurants. You will have Nepali dish today. Get ready for it.
Mostly, we drive along the smooth road for 6-7 hours. And the rough country road begins. Prepare comfortable clothing for this long travel. We suggest you to wear comfortable shoes because you need to bend your legs for more than 8 hours in the jeep which is very difficult. Actually, the ending section of the jeep drive is bumpy in the country road. We also experience Nepali dust and the swinging movements of the jeep which is sometimes scary too.
We recommend you to bring some snacks so that you won't go hungry during the drive. If you do not get the food you want during the drive, you can have your own food. Thus, bringing some light snacks will be the best idea.

Kathmandu-Salleri Bus/jeep ride connects Namche . Namche is the gateway of every Everest region trekking in Nepal like Everest Base Camp, Everest View Trek, Everest Panorama Trek, Gokyo Valley Trek and many more.
Now, you may have a question, Don't we get bus service from Kathmandu to Salleri? The answer is No, we do not get bus from Kathmandu to Salleri because of the condition of the road. But, we can get the bus from Kathmandu to Jiri. Jeep (4WD) drive form Kathmandu to Salleri is like an adventure safari in the mountain.

From Salleri, it is 3-4 days walk to get Namche Bazar. Namche Bazar's attractions are: Tibetan Mareket, modern hotels and restaurants, Sherpa Cultural Museum, Hotel Everest View, the hotel located at the highest elevation of the world and alluring view of Thamserkhu mountain.

How to book the Kathmandu-Salleri Bus/jeep ride from Kathmandu?
You'd better go and ask the travel or trekking company in Thamel to book it for you. Simply you can contact us:
Quick contact for booking Jeep / Trekking and Tour in Nepal:
Nepal Mobile : +9779851082990 / +9779851059279( 24 hours available on Whatsapp, Viber and We chat) Contact Person: Lila Bista / Badri Aryal / Call us Direct (email: enepaltour2020@gmail.com)
If you try to book it by your own, it is very complicated. So, simply tell one of the travel companies that you want a jeep to Salleri from Kathmandu. They will do it for you.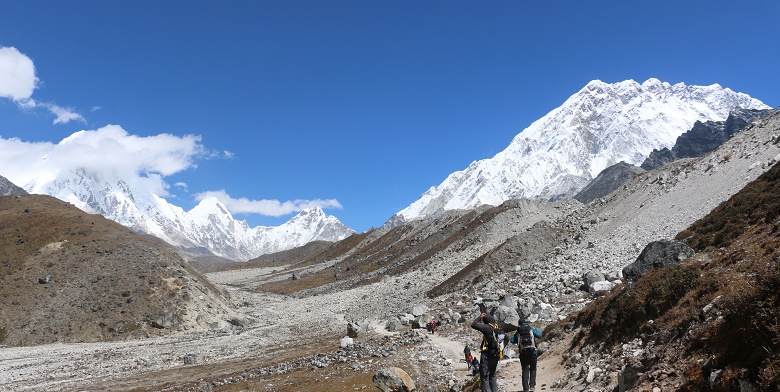 Preparation
Carry Water
Fit in yourself in comfortable clothing and shoes
Carry Two Face Medical Masks in order to prevent dust
Carry some light snacks in case you don't get the food you want on the way
Bring first-aid box with basic medicines
Note: Get ready to face bumpy and dusty country road from Kathmandu to Salleri. Only, ending part is like this, not the whole part. But it is like an adventure.
Quick contact for booking Jeep / Trekking and Tour in Nepal:
Nepal Mobile : +9779851082990 / +9779851059279 ( 24 hours available on Whatsapp, Viber and We chat) Contact Person: Lila Bista / Badri Aryal / Call us Direct (email: enepaltour2020@gmail.com)