Message from Managing Director
---
Welcome to Nepal, the Land of Mighty Mountains!!! And Also Welcome to Enepaltour!!!
Nepal is best known as the Land of Mighty Mountains including the top of the world, Mt. Everest (8848m) and the birthplace of Lord Gautam Buddha. Nepal has myriad of natural and cultural diversity. One can make an endless exploration on its nature and culture. These cultural and natural mysteries fascinate thousands of tourists every year to Nepal.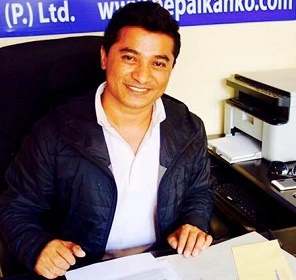 Nepal offers different exciting and adventure activities like hiking, trekking, climbing, expedition, touring, river rafting, paragliding, bunjee jumping, jungle safari, canoeing, mountain flight, mountain biking and many more exhilarating activities. Nepal's UNESCO World Heritage sites include Pashupatinath, Swyombhunath, Bouddhanath, Patan, Bhaktapur, Kathmandu Durbar Square, Chitwan National Park and Sagarmatha National Park lure every kind of tourist in Nepal.
The sacred historical and religious sites, the falls, the serene freshwater lakes including the Tilicho lake, the late located at the highest elevation of the world, the holy caves, winding rivers and creeks, deep and lush forest, various endangered and unique species of animals and birds are the major attractions of Nepal tour/ trekking. Most importantly, the stunning mountain peaks astonishes one's eyes and the cameras. The dazzling sunset and sunrise, the picturesque valleys and the landscapes are simply breathtaking.
Enepaltour is to create harmony between you trekking, tour and the adventure enthusiasts and the cultural and natural diversity in Nepal. We explore natural and cultural dimensions and offer to the tourists around the world.
Enepaltour is eco-friendly which always promotes sustainable tourism in Nepal. We are conscious about ecological hazards by tourism. We do not disturb local culture, flora and fauna and tradition. Rather we promote them. We also suggest our clients not to do so. You just leave your footprints, nothing more than that.
Enepaltour has reliable and responsible team. Our teamwork is always praised by our clients and has always become successful in accomplishing the assigned tasks. Our team is insured. We provide them all required equipment during the trip. They are happy to work for eNepaltour.
Thus, we, eNepaltour have strong determination to enhance Nepal tourism prospects at great peak inviting the tourists around the globe. So, those who are making their tour, trekking or any kind of activities which Nepal offers should not hesitate to connect to us. Just let us know your interest; we will satisfy you in fullest.