Popular viewpoints in Nepal
---
Popular across the universe as a mountainous/Himalayan country, Nepal owns several lower to higher popular viewpoints offering incredible mountain vistas, sunrise, sunset and landscapes. There are numerous Popular Viewpoints in Nepal for passionate nature lovers from the world. Some of these Popular Viewpoints in Nepal are closer to Kathmandu and Pokhara and some are into the heart of mountain peaks. Further or nearer, all viewpoints are to capture breathtaking mountain views, sunrise and awe-inspiring landscapes. Now, let's talk about these Popular Viewpoints in Nepal in detail.
Chisapani
Chisapani is a part of Chisapani-Nagarkot Short Trek. Chisapani is 2-3 hours hiking from Sundarijal. Sundarijal is the entry point of Shivapuri National Park. Sundarijal is 20 minutes from central Thamel. Walking through deep rhododendron and beautiful traditional village, we get Chisapani, a beautiful settlement at the top of the hill. Actually Chisapani is Cold Water in English which means cold weather.
Chispani is a popular viewpoint nearby Kathmandu for Langtang mountain panorama and stunning sunrise. Langtang, Lirung, Ganesh Himal range and other stunning mountain peaks are absolutely amazing to witness from Chisapani.
Nagarkot
Nagarkot is a hill station popular for sunrise and mountain views. Actually, Nagarkot is the most Popular Viepoints in Nepal near Kahtmandu valley for witnessing stunning sunrise and Mt. Everest, the top of the world. The distance between Nagarkot and Kathmandu is 32 km drive. Mostly people go to Nagarkot early in the morning from Kathmandu for sunrise or they spend overnight at Nagarkot. We climb or drive to the Nagarkot Tower to view Stunning sunrise and breathtaking mountain panorama including the top of the world, Mt. Everest. Our eyes and cameras will get astonished to witness marvelous view of mountain panorama from this serene Nagarkot Tower. Nagarkot is one of the nearest viewpoints from Kathmandu.
Chandragiri Hill
Chandragiri Hill is the closest hill station popular for mountain views and landscapes including beautiful Kathmandu Valley. Chandragiri is 11 km drive from central Kathmandu. From the base of the Chandragiri, we either choose to hike up or we go with Cable car which is 2.5 km long. Chandragiri Hill is located at 2551 m high from the sea level offering magnificent views from Annapurna to Everest massif. The Bhaleshwar Mahadev temple of Lord Shiva is on top of the hill which was worshipped by legendary king Prithvi Narayan Shah. The wilderness, the serenity and an escapes from this hectic city life is perfect at Chandragiri Hill. It is also popular among the children since they can have several options of fun for the whole day. We can make Chandragiri hiking to Chitlang and Kulekhani a perfect to prepare longer trekking in other region.
Sarangkot
Sarangkot is a hill station nearby Pokhara popular for stunning sunrise and mountain views- Annapurna massif and mesmerizing Machhapuchhre ( Fishtail). Sarangkot is located at 1,700m/5,577ft above the sea level. It offers views of mountain peaks such as Annapurna [8,091m/ 26,545ft], Manaslu [8,165m/ 26,781ft], Ganesh Himal [7,446m/ 24,422ft], Dhaulagiri [8,167m/ 26,795ft], Machapuchhre and 25 others over 6000 metres in height. Sarangkot is also popular for Paragliding down to Phewa Lake.
Poonhill
Poonhill is one of the most Popular Viewpoints in Nepal in Annapurna Region Trekking and Annapurna Base Camp Trekking. Actually, trekkers will fall in profound love with mountain peaks when they are at Poonhill. Poonhill is located 3200m high from the seal level and located in Myagdi district. Poonhill offers magnificent views of Annapurna massif, Gangapurna, Himchuli, Machhapuchhre and many other smaller peaks with a true combination of first fall of the sunrays. Poonhill is 2-3 days walk from Pokhara and one hour walk from Ghorepani which is considered to be the base camp of Poonhill. From Ghorepani, we climb more 400 meters to get the top of the Poonhill.
Machhapuchhre Base Camp
Machhapuchhre Base Camp is one of the most popular viewpoints in Annapurna Region Trekking. Machhapuchhre Base Camp is located at 4130m above the sea lever offering breathtaking views of Annapurna Himalayan panorama especially alluring and lovely Machhapuchhre (Fishtail). Annapurna Base Camp and Machhapuchhre are closer eachother.
Annapurna Base Camp

Annapurna Base Camp is the main attraction and popular view point of Annapurna Region Trekking in Nepal. Annapurna Base Camp is located at 4210m high from the sea level offering magnificent views of Annapurna Mountain range include Annapurna-I, Annapurna-South, Annapurna-IV, Gangapurna, Himchuli and many other alluring peaks in this region. The wilderness and he serenity is absolutely mesmerizing from Annapurna Base Camp.
Namche, Hotel Everest View
Just above Namche Bazar, we have Hotel Everest View which is located at 3880m, the hotel located at the highest altitude of the world which offers astonishing mountain views of Everest mountain range including the top of the world, Mt. Everest. Khumjung village can also be captured from Hotel Everest View. Hotel Everest View is just 25 minutes walk up from Namche Bazar. It is also popular for sunrise view .
Gokyo Ri
Gokyo Ri is located just above Gokyo Lake and the Gokyo Valley at the elevation of 5330/17483ft above from the sea level. We rise up Early and climb up to the Gokyo-Ri, for extraordinary view of Mahalangur Himalayan range, it takes around 2hrs climb to the top of the peak, providing a superb view of Cho-Oyu, Gyachung Kang, Everest, Lhotse, Makalu, Cholatse and Tawache & a great looking of Ngozumpa glacier a largest glacier in Nepal.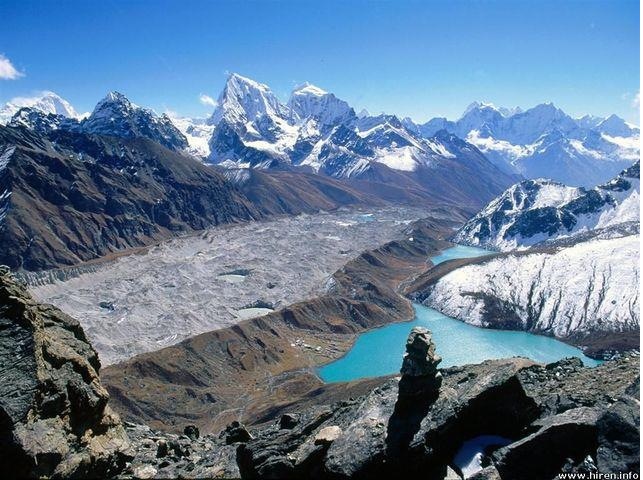 Everest Base Camp
Everest Base Camp is located in Everest region trekking at the elevation of 5364m high from the sea level. Everest Base Camp offers us breathtaking views of giant peaks in Mahalangur Himalayan range in Everest region. But one interesting fact about Everest Base Camp is that no trekkers can see Mt. Everest From Everest Base Camp. Everest Base Camp is the highest base camp in the world.
Kalapatthar

Kalapatthar is the fabulous viewpoint in Everest region Trekking and Everest Base Camp Trekking in Nepal. Kalapatthar is located at 5545m/18188ft above from the seal lever offering the most stunning views of Pumori, Nupse, Loatse and the top of the world, Mt. Everest. Kalapatthar is 1 hour climb from Gorakhshep. Kalapatthar is normally windy all the time. It's freezing cold but the view are marvelous just above us.
Now, you can find your favourite viewpoint to capture the best moments of your life after going through these all popular viewpoints in Nepal and make your holiday trip a memerable for the lifetime.
Quick contact for booking Trekking Tour and all kinds of activities in Nepal:
Nepal Mobile : +9779851082990/ 9779841718385 ( 24 hours available on Whatsapp, Viber and We chat) Contact Person: Lila Bista / Krishna Thapa/Call us Direct
email: enepaltour2020@gmail.com