Mardi Himal Trekking cost
---
You need to know certain important things before undertaking Mardi Himal Trek. Among these, Mardi Himal Trekking Cost is one of the most important thnigs to know before venturing on the trail since the trekking budget plays the most vital role during a holiday trip.
Mardi Himal (5587m) Trekking is, in fact, more rewarding than Annapurna Base Camp Trekking to capture mesmerizing Annapurna massif and alluring Machhapuchhre. Mardi Himal Trekking takes us to Mardi Himal Base Camp ( 4500m) which is the most closest viewpoint to capture Machhapuchhre and Annapurna Massif.
Quick contact for booking Trekking and Tour in Nepal: Mardi Himal Trekking and many more
Nepal Mobile : +9779851082990 / +9779841718385( 24 hours available on Whatsapp, Viber and We chat) Contact Person: Lila Bista /Krishna Thapa / Call us Direct
email: enepaltour2020@gmail.com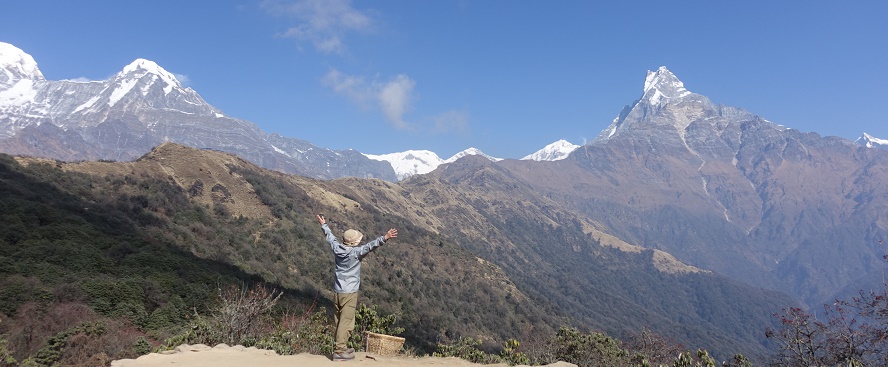 Trekking companies in Nepal or in Thamel, Kathmandu feature different Mardi Himal Trekking Cost depending on the service they offer and the itinerary that their clients choose. However, all quoted Mardi Himal Trekking cost may not be reasonable.
The following indicators determine Mardi Himal Trekking Cost :
TIMS and Permit
We need to obtain TIMS card and Annapurna Conservation Area Permit before heading to the trailhead of Mardi Himal Trekking.TIMS Card fees are as follows – Group trekker: NRs. 1,000; Free individual trekker (FIT): NRs. 2,000, per trekking route per person per entry.
For SAARC countries TIMS Card fees are as follows – Group trekker: NRs. 300; FITs: NRs. 600, per trekking route per person per entry. Part of the collection will go into maintaining the trekkers' database and in the rescue of trekkers in need of emergency services.
Diplomats are not charged for the card.
Annapurna Conservation Area Permit (ACAP) permit fee for foreigners: 3000 NPR (Approx. US $30)
Guide and Porter
Hiring guide and porter is the most reliable way to make your Mardi Himal Trekking. Your guide and porter help you significantly on the trail in many ways. We do not suggest anyone to trek independently.
We need pay USD 15-20 per day per individual for porter and USD 20-30 per day per individual for guide.
Transportation
When arrive at Kathmandu airport, you need a transfer to hotel. For this, we need to pay 700-1000 NPR. If you book Mardi Himal Trekking through a trekking company, the company will include the cost of airport pick up and drop too. Or independently, we can hire the pre-paid taxi from Kathmandu airport to the hotel which costs 700 NPR.
We need to go Pokhara first for Mardi Himal Trekking. We have three different options for getting Pokhara from Kathmandu. First, we can fly to Pokhara. The one way flight cost USD 110 per individual. Secondly, we can use tourist bus. The tourist bus ticket from Kathmandu to Pokhara costs 700-1000 NPR. Thirdly, we also can get private vehicle like jeep or car. The jeep or car from Kathmandu to Pokhara costs between USD 80-100.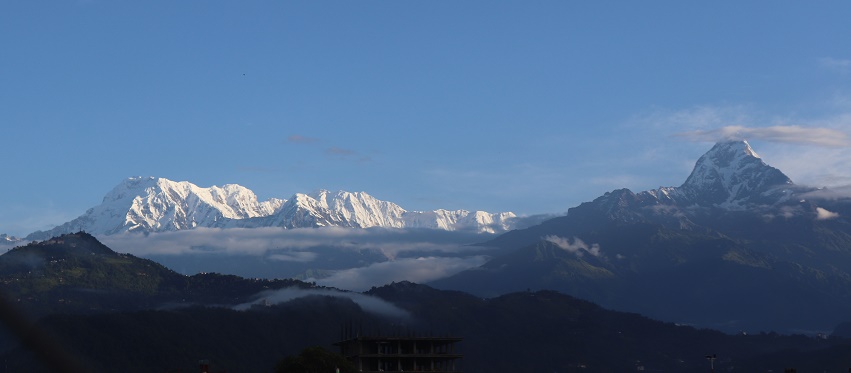 Food and Accommodation
Breads and Nepali dishes are very popular item of meals during Mardi Himal Trekking. The lodges and guesthouses will provide you their menu and you have to make you choice what you want to have. One item of food costs between USD 2-7 USD. One beer will cost between 500-800 NPR.
The Mardi Himal Trekking Accommodation will be very ordinary. We normally need to share the room and the bathrooms or toilets. No attached bathroom can be found on Mardi Himal Trekking trail. Toilets and bathrooms will outside. One room with two beds cost between 700-1000 NPR. Bring your own sleeping bag.
Personal Expenses
How prodigal are you? You may spend some money on shopping and drinking. We get some local products like pashmina shawl, Tibetan ornaments like rings and bracelets. These things will be the memento for you. Bring money according to how prodigal you are.
Tips for Guide and Porter
Offering tips to the guide and porter is the best way to end our Mardi Himal Trekking. There is no specific boundary in which you have to tip. Normally, we suggest you to allocate USD 5-10 each day for you guide and porter.
There may be other many categories which contribute to Mardi Himal Trekking Cost. However, the above mentioned titles cover your entire Mardi Himal Trekking Cost. Now, you can anticipate the Mardi Himal Trekking Cost and make it a successful adventure for the lifetime.
Quick contact for booking Trekking and Tour in Nepal:
Nepal Mobile : +9779851082990 / +9779841718385( 24 hours available on Whatsapp, Viber and We chat) Contact Person: Lila Bista /Krishna Thapa / Call us Direct
email: enepaltour2020@gmail.com