Everest Trekking Elevation/ Height
---
One of the most important things to know about Everest Base Camp Trek is Everest Base Camp Trekking Elevation/ Height. Some people understand it as Everest Base Camp Trek Altitude. At what elevation do we begin our trek? What is the highest elevation that we get up to? From What elevation we get altitude sickness? How can we prevent altitude sickness at highest elevation during Everest Base Camp Trek? These are some of the important questions put in the front by the trekkers who are planning to do Everest Base Camp Trek during their holiday.
A moderate, sometimes, considered as tough adventure in the heart of the top of the world, Everest Trekking Mt. Everest ( 8848m) is the hight. Everest Base Camp Trekking or we call it Everest Trekking is trekking of global brand. Above 80% trekkers who come to Nepal for trekking choose to do Everest Trekking so that they can capture the mightiest Mt. Everest and other giant summits in Khumbu region. Experiencing Sherpa kingdom, exploration of Sagarmatha National Park, the national park located at the highest elevation on the planet, Namche Bazar and the classical Tibetan market, Tengboche Monastery, Lukla airport and mesmerizing mountain views are the major highlights of Everest Trekking.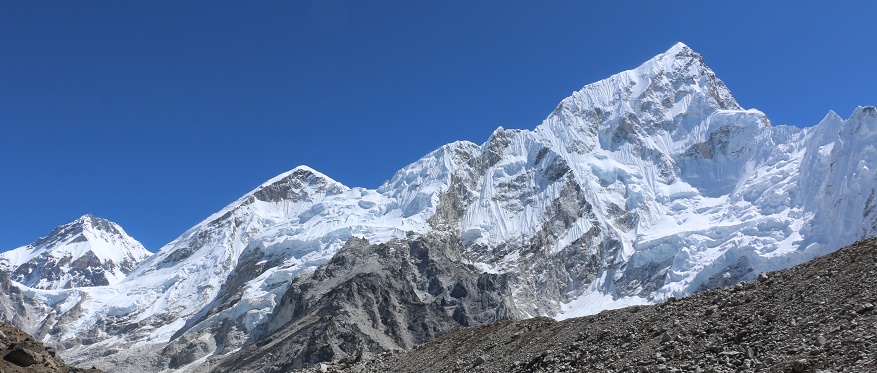 Everest Trekking has numerous trekking trail like Everest Base Camp Trekking, Everest View Trekking, Everest Panorama Trekking, Gokyo Valley Trekking, Gokyo Chola Pass Trekking, Namche Trekking, Everest Three Passes Trekking and Tengboche Trekking. The Everest trekking elevation varies according to the trekking itinerary you choose in Everest region .
Everest Trekking Elevation/ Height ranges from 1300-5364-5545m. We begin our Everest Trekking from Kathmandu. Kathmandu is located at the elevation of 1300m. We take a short and scenic flight of 35 minutes from Kathmandu airport to Lukla airport. And finally, we get to Kalapatthar and Everest Base Camp which are located at 5545m and 5364 respectively.
Normally, trekking companies in Nepal do not hire porters from Kathmandu because the flight ticket is expensive. So, we meet our entire team at Lukla and begin our Everest Trekking.
Lukla airport is one of the major attractions of Everest Base Camp Trekking. Lukla airport is also known as Tenjing-Hillary Airport. Lukla airport is considered to be the most dangerous airport in the world. Lukla airport is located at the altitude of 2860m. Lukla means the place of goat and sheep but we do not see them these days.
Next, our trekking begins on the same day to Phakding. Phakding is located at lower elevation than Lukla. Phakding is located at 2652m. Phakding is a typical Nepali traditional village with trekkers' lodges and restaurants.
Then, we slowly enter into Sagarmatha National Park. There is a checkpoint office of Sagarmatha National Park at the place named Monjo. We get our Sagarmatha National Park entry permit checked at Monjo and trek to Namche Bazar. Monjo is located at 2835m high.
Before getting Namche Bazar, we experience Sagarmatha National Park following the trail along the Dudh Koshi River till we get a suspension bridge. After we pass this suspension bridge, we begin to climb a steep uphill till we get to Namche Bazar. This steep uphill sometimes is tough to the beginners.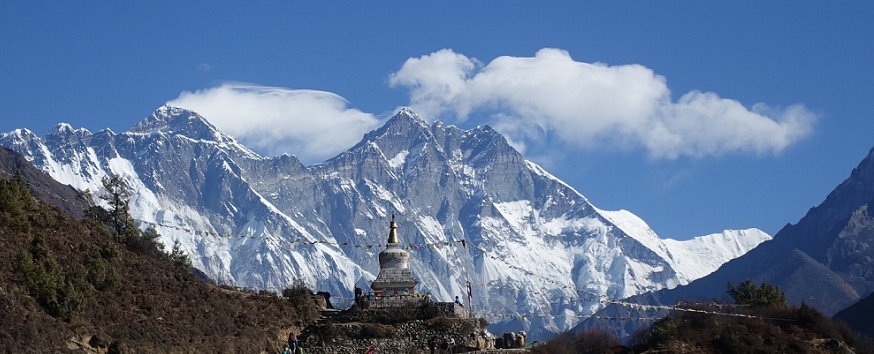 Namche Bazar is located at the altitude of 3440m. If we climb to Hotel Everest View, we will be at the elevation of 3962m.
Traditional Tibetan Market, Hotel and restaurants, Sherpa Cultural Museum and beautiful view of Thamserkhu mountain are the najor highlights of Namche Bazar. Namche is the capital of entire Khumbu region. Namche Bazaar also paves the way to numerous trekking trails in Everest region.
Hotel Everest View (3962m) offers us magnificent sunrise, Khumjung village and breathtaking mountain panorama including Mt. Everest.
We acclimatize our body at Namche bazaar in order to accommodate with higher elevation in Everest trekking.
We leave Namche and trek to Tengboche. Tengboche is located at 3860m above from the sea level. We explore holy Tengboche monastery and Sagarmatha National Park at Tengboche.
Some trekkers love to go Dingboche from Tengboche. But majority of the trekkers go Periche from Tengboche. Dingboche is located at 4410m above from the sea level. Dingboche is beautiful valley which paves the way to climb Island Peak.
Periche is located at 4371m above from the sea level. It is a beautiful village in Khumbu region on the way to Everest Base Camp befor Lobuche.
Next, we head to Lobuche which is one camp away from Gorekh Shep or Kalapatthar. Lobuche is situated at 4910 m above the sea level. Lobuche paves the way to climb Lobuche peak.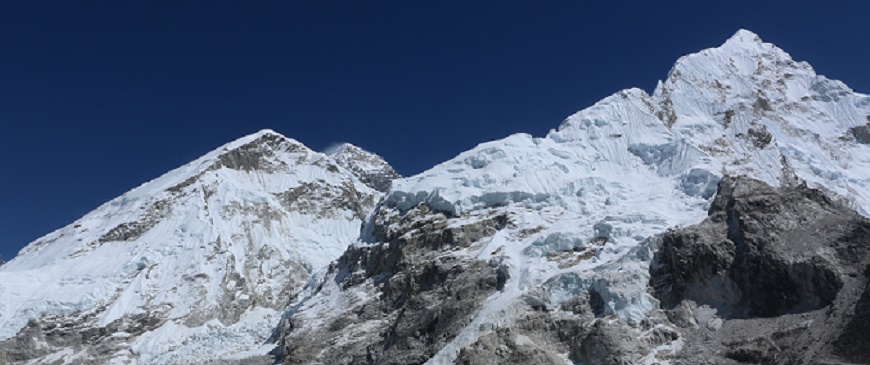 Our final walk from Lobuche takes us to Gorekh Shep and Kalapatthar. Gorekh Shep is the base camp of Kalapatthar which is located at 5164m above sea level. In the early morning, we climb Kalapatthar which is located at 5545m above the sea level. We further trek to Everest Base Camp which his situated at 5463m above the sea level. Everest Base Camp is the highest base camp on the planet to see mountain views. Everest Base Camp and Kalapatther are the two dinstinctive viewpoints in Everest Trekking for sunrise and mountain views.
Preparations
Do regular exercises like jogging
Better do some shorter hiking to enhance the level of stamina
Get your health checked up well
First aid Kit is mandatory
Travel Insurance that covers your whole rescue and medical expenses
While gaining Everest Base Camp Trekking Elevation/ Height, do not climb quickly to higher point. Do proper acclamatization ( minimum at two places: Namche and Dingboche). In this way, you are going to get triumph over your Everest Base Camp Trek.
Highlights of Everest Base Camp Trekking
A scenic flight from Lukla to Kathmandu
Namche Bazar, Hotel Everest View, Sherpa Cultural Museum, Tibetan Market etc.
Sagarmatha National Park and its Himlayan Flora and Fauna
Sherpa People and their life style
Kalapatthar and Everest Base Camp and mountain views:Mt Lhotse [8,516m/27,940ft], Mt Makalu [8,462m/27,762ft] and Cho Oyu [8,201m/26,906ft] and Mt Everest [8,848m/29,029ft] itself.
Quick contact for booking Trekking Tour and all kinds of activities in Nepal:
Nepal Mobile : +9779851082990/ 9779841718385 ( 24 hours available on Whatsapp, Viber and We chat) Contact Person: Lila Bista / Krishna Thapa/ Call us Direct (email: enepaltour2020@gmail.com)