Everest Base Camp Trek Cost for Indian National- A Complete Guideline
---
The Everest Base Camp Trek Cost varies to the different travelers come from different countries. The Everest Base Camp Trek Cost will differ to the people who are foreigners and also differs to the people from India or any other Asian Countries. If Nepalese people are undertaking Everest Base Camp Trek, of course, the trek cost will differ. So, if you are an indian national and preparing Everest Base Camp Trek, go through this article, Everest Base Camp Trek Cost for Indian National- A Complete Guideline.
Everest Base Camp Trek is, undoubtedly, a world- branded adventure to the highest mountain base camp of the world. The dream of pursuing it has two ways- Everest Heli Tour or Everest Base Camp Trek. Third option you have in your hand is Everest Mountain Flight. But, it only allows you to witness Mt. Everest not step at Everest Base Camp.
Quick contact for booking Trekking and Tour in Nepal:
Nepal Mobile : +9779851082990 / +9779841718385( 24 hours available on Whatsapp, Viber and We chat) Contact Person: Lila Bista /Krishna Thapa / Call us Direct
email: enepaltour2020@gmail.com
Normally, Everest Base Camp trek begins after a short and scenic flight from Kathmandu to Lukla. Get into Sagarmatha National Park and experience alpine species of flora and faunas gradually. Have acclimatization at Namche Bazar. Climb Hotel Everest View and capture spectacular Mt. Everest Base Camp and Khumjung village. Pass Tengboche Monastery, Dingboche and Lobuche and get to Gorekhshep. Climb Kalapatthar and capture stunning sunrise and mountain giants including Mt. Everest, the top of the world. Further, trek to Everest Base Camp and be blessed to put your footstep at the highest base camp of the world.
On backtracking, we follow the same trail to Lukla via Tebgboche and Namche and take another short flight to Kathmandu.

Are you Indian Nationals wondering to know Everest Base Camp Trek Cost? Simply, go through this article,Everest Base Camp Trek Cost for Indian National- A Complete Guideline, between the lines, you will get entire idea about it.
Before talking about Everest Base Camp Trek Cost, we need to discuss about the determinants of it. Actually, your food, accommodation, Trekking permits, flight cost, Personal expenses, tips to guide and porter and the cost of purchasing the souvenirs in the mountain determine your Everest Base Camp Trek Cost. Also, the bigger volume of the people or smaller individual trekker shapes the Everest Base Camp Trek Cost. The cost for National Park entry and for the flight is less costly than the cost for other foreigners. In fact, wherever you go in Nepal, the Indian nationals are charged less than the people of other countries since they are from SAARC country.
You can take help from Everest Base Camp Trek Daily Budget for the exact budget.
The Everest Base Camp Trek Cost for Indian National is 57000 INR. For this, we require at least 2 people. If the number of people increases for the same departure date or in the same group, this cost may go down slightly. But it depends on trekking seasons. Off season price is relatively low than the price quoted on the website of the trekking companies.
Everest Base Camp Trek Itinerary- 15 days – 2019/2020
Day 01 - Arrive at Tribhuwan International Airport Kathmandu
Day 02 - Kathmandu Valley Sightseeing Tour and Preparation for the Trek
Day 03 - Fly to Lukla and Trek to Phakding (2652m/8699ft (Walking Distance: 8 KM) Duration: 3 hours
Day 04 - Trek from Phakding to Namche [3,440m/11,280ft] that takes 6 and a half hours.
Day 05 - Acclimatization Day - Hike to Everest View Hotel (Walking Distance: 3-4 KM) Duration: 3-4 Hours
Day 06 - Namche to Tengboche (3860m/12660ft) (Walking Distance: 10-11 KM) Duration: 5 Hours Day 07 :- Tengboche to Dingboche (4410m/14464ft) (Walking Distance: 11-12 KM) Duration: 5 Hours
Day 08 - Acclimatization Day - Hike to Nagerjun and return (Walking Distance: 5-6 KM) Duration: 4-5 Hours
Day 09 - Dingboche to Lobuche (4910m/16105ft) (Walking Distance.: 11-12 KM) Duration: 5 Hours
Day 10 - Lobuche - Everest Base Camp (5364m/17594ft) - Gorekshep (Distance: 14-15 KM) 8 Hours
Day 11 - Gorakshep - Kala Pathar (5545m/18188ft) - Pheriche (4210m) (Distance: 13-14 KM) 7 Hours
Day 12 - Pheriche to Namche (3440m/11283ft) (Walking Distance: 14-15 KM) Duration: 7 Hours
Day 13 - Namche to Lukla (2800m/9184ft) (Walking Distance: 18-19 KM) Duration: 7 Hours
Day 14 - Fly from Lukla to Kathmandu
Day 15 - Farewell/Tour Ends
This Everest Base Camp Trek Cost for Indian National- 57000 INR covers the following titles:
Airport / Hotel / Airport pick up & drop by private vehicle.
Hotel in Kathmandu ( 2 night on B/B plan)
Meals (breakfast only)
An Experienced Trekking guide
Tea House hotel accommodation during the trek.
A highly experienced, helpful and friendly government license holder Trekking Guide and his food, accommodation, salary, insurance, equipments, medicine etc.
Porter ( porter available if more than 2 clients only )
Round Trip flight fare Kathmandu - Lukla - Kathmandu
Kathmandu & domestic airport taxes in Kathmandu and Lukla airport for Group and crews.
National Park Permits
TIMS (trekkers' information management System.)
Everest Village Development Permit
All ground transportation
All our government taxes
Official expanse and service charge included
The Cost doesn't cover the following titles:
Your travel insurance. (Compulsory)
Your Lunch and Dinner
International air fare.
Nepal entry visa fee.
Items of a personal nature such as alcoholic drinks, cold drinks, laundry.
Personal trekking Equipments.
Personal Expenses
Tips to guide and porter ( as you wish/ depends on your satisfaction)
Hot shower during the trek except Phakding, Namche and Lukla
Wifi and other communications charge during the trek in the mountain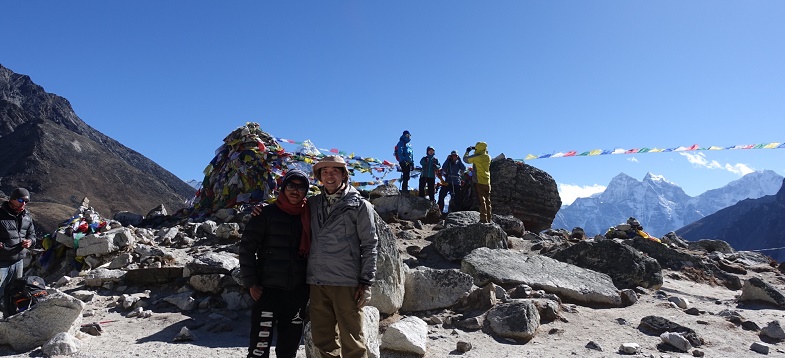 These are the recommended Nepal Trekking Gear List for you Everest Base Camp Trek
Sleeping
Tent (only for camping)
Sleeping Bag (-15 will work for all trekking routes in Nepal)
Sleeping Pad
Silk Liner
Nights at lower elevation will be mild but it will be freezing cold at higher elevation. We get a pair of blankets offered by the guesthouse or lodges in most of the places. But in peak season, we may not get this facility. So, we recommend carrying your own sleeping equipments. Even some trekking companies provide sleeping bags to the clients. Make sure of it before depart to the trekking.
Walking/Hiking
A Backpack (size depends on whether we have porters or not)
A pair of Hiking boots ( make sure that it is reliable for the entire trip)
A Pair of Walking shoes ( need for change after a long hike during the day)
At least 4 pairs of Woolen socks (bring a few pairs of varying thickness)
2 pairs of Lightweight trekking pants
2 pairs Trekking shorts
4 pairs T-Shirts (lightweight wool is great)
6 pairs of Underwear
We will be trekking or hiking from hot to cold temperature varying to elevation. To suit this variability, we have to pack the gear accordingly. We recommend to bring backpacking boots which provide full support for our feet and protection too. A pair of normal walking shoes and a pair of hiking boots can be used according to the situation. But, during the hiking, you should feel convenient.
Cold Weather
Long underwear ( warm enough)
Thermals ( upper and lower)
Fleece
Waterproof jacket and pants
Heavyweight pants for higher elevations
Heavy down jacket ( we can hire it in Kathmandu or Pokhara)
Winter hat
Winter gloves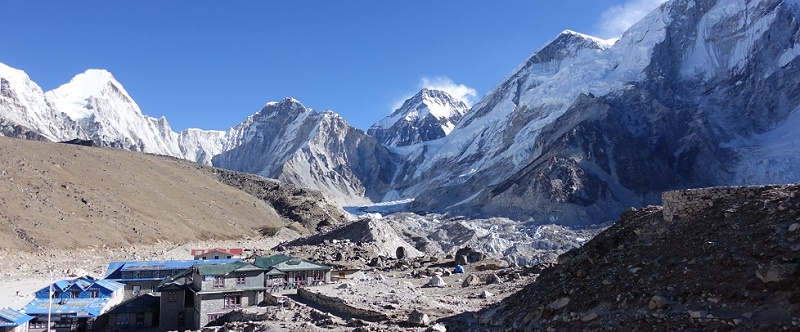 Accessories
Water Purification (pump, tablets, or SteriPen; bring from home)
Water Bottles (at least 3 liters total capacity)
Baseball Cap ( protects strong sun at higher elevations)
Hiking or Trekking poles
Sunglasses
Head Lamp With Extra Batteries
Power Box or Battery Charger
Camera With Extra Batteries
Daypack (for your rain jacket, snacks, camera, water bottle etc.)
Heavy-duty duffle bag (for porters which is normally provided by trekking company, make sure of it )
Personal
Hand sanitizer
Toiletries (toothbrush, toothpaste, deodorant, floss, etc.)
Soap and Shampoo
Face/body wipes
Washing Liquid
Lip Guard
Medications ( for normal stomachache, headache, diarrhea, vomiting, fever and other according to your health condition)
Extras
Duct tape (fixes just about everything, at least temporarily. To avoid carrying an entire roll wrap the desired amount around a pencil)
First Aid Kit (with bandage for blisters, blisters are nasty in the mountain)
Extra passport photos and photocopies of your passport
Books of your interest
Cards if you like to play in the evening at dinner
Pastime of your interest ( easy to carry in the mountain)
Certain normal medications can be purchased in some major cities in the mountain like Lukla and Namche, However, we recommend to bring of your own.
We can wash T-shirts, shorts, shocks and pants on the way at guest houses where we spend the overnight. We carry them on our backpack during the daytime while hiking. However, we need to bring enough clothing for the entire trip.
Hope you liked this article on Everest Base Camp Trek Cost for Indian National- A Complete Guideline and got the major concerns for Everest Base Camp Trek Cost for Indian national. This article will not only be fruitful to those who are Indian but also the people accross the world can be benifited through this writing.
Quick contact for booking Trekking and Tour in Nepal:
Nepal Mobile : +9779851082990 / +9779841718385( 24 hours available on Whatsapp, Viber and We chat) Contact Person: Lila Bista /Krishna Thapa / Call us Direct
email: enepaltour2020@gmail.com