Ghandruk Jeep Ride
---
Ghandruk Jeep Ride can be a part of Poonhill Trek, Annapurna Base Camp Trek and Ghandruk Circuit Trek. In course of expansion of rural roads, the government of Nepal has linked Ghandruk, the largest Gurung village by roadway where the most effective means of transportation of 4WD jeep. Also the local buses run along the road from Pokhara but they are not as comfortable as jeep ride.
Many trekkers who trek in Annapurna region may not know about Ghandruk Jeep Ride and even the tour companies set their trek itinerary in a traditional way ignoring or without giving space to Ghandruk Jeep Ride. Those who are willing to escape one day walk up to or from Ghandruk, find Ghandruk Jeep Ride a beautiful option. And also, those who are just willing to go Ghandruk escaping the walk and spend few days there, find Ghandruk Jeep Ride a rewarding choice.
Quick contact for booking Trekking Tour and all kinds of activities in Nepal:
Nepal Mobile : +9779856070806 ( 24 hours available on Whatsapp, Viber and We chat) Contact Person: Gokul Poudel / Call us Direct
email: enepaltour2020@gmail.com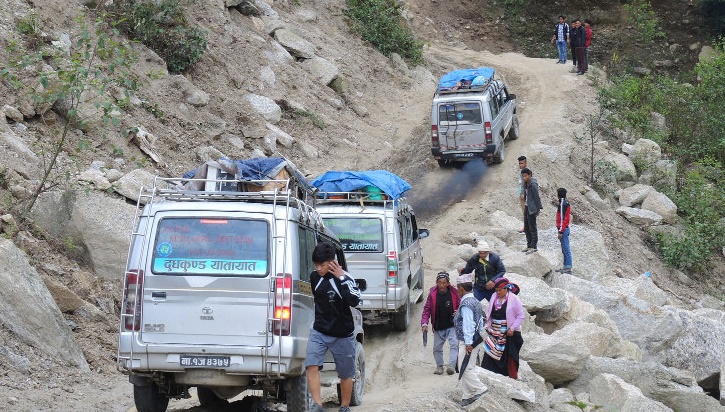 While starting our trip from Pokhara for Annapurna Base Trek, Ponhill Trek or Ghandruk Circuit Trek, we can directly get the jeep ride to Ghandruk . Or optionally, you can get the Ghandruk Jeep ride from Nayapool. Or, if you have completed your Poonhill Trek, Annapurna Base Camp trek or Ghandruk Circuit Trek , people are normally tired to walk down. At the meantime, Ghandruk Jeep Ride can make them happy because they can escape 4-5 hours trek to Nayapool from Ghandruk.
Ghandruk , Poonhill and Annapurna Base Camp are the major attractions of Ghandruk Jeep Ride. Among these destinations , Ghandruk is the center of the attraction. Let's see what are the major highlights of Ghandruk.
Highlights – Ghandruk
Traditional Picturesque Gurung settlements
Gurung Museums
Traditional organic food items
Majestic Annapurna from Ghandruk
Annapurna Conservation Area Project Office
German Bakery
Let's come back to the main issue that is Ghandruk Jeep Ride. The distance from Pokhara to Ghandruk is 32 km. And the distance from Nayapool to Ghandurk is 18.8 km. Actually, Nayapool is the gateway to Annapurna region where Trekking Permits are checked. Nayapool is located in between Ghandruk and Pokhara.
Ghandruk Jeep Ride from Pokhara costs USD 100 . Likewise, Ghandruk Jeep Ride from Nayapool to Ghandruk is USD 50. One jeep can be shared by 8 people and the cost is divisible. This cost includes driver, fuel and the jeep. You food is extra in this cost. While returning from Ghandruk to Nayapool or Pokhara, the cost is same.
How can I book the Ghandruk Jeep Ride?
If you have completed the trekking and returning back to Pokhara from Ghandruk, you can ask your guide or the hotel where you stay or can contact directly to the company who operated you trekking trip. Or if you are going to Ghandruk from Pokhara, you can ask help from the trekking or tour company representative or the company directly, or, also can ask your guide( if you have). They will arrange jeep for you.
Regarding local bus, only few buses are running on this portion of the road to Ghandruk to Pokhara. Normally, the public buses are terribly crowded and inconvenient to travel because the trekkers are not used to this kind of local bus trip before. So, if you really want to experience the local bus ride regardless of inconveniences, we have nothing to say. Frankly speaking, you are not recommended to use public bus to go Ghandruk or escape Ghandruk for Pokhara.
Also have a look at following Popular trek itineraries in Annapurna region.
Day 01: Pokhara to Ulleri ( 900- 1900m)
Day 02: Ulleri - Ghorepani ( 1900-2800m)
Day 03: Ghorepani- Tadapani via Poonhill ( 2800-3200-2500m)
Day 04: Tadapani- Ghandruk (910m) - Nayapool- Pokhara
Day 01 - Pokhara to Tikhe Dhunga (1495m/4905ft) Duration: 5 Hours
Day 02 - Tikhe Dhunga to Ghorepani (2850m/9348ft) Duration: 7 Hours
Day 03 - Hike to Poon Hill for sunrise then trek to Tadapani (2500m/8200ft) Duration: 6-7 Hours
Day 04 - Tadapani to Chhomrong (2020m/6625ft) Duration: 5 Hours
Day 05 - Chhomrong to Dovan (2600m/8528ft) Duration: 5 Hours
Day 06 - Dovan to Deurali (3200m/10500ft) Duration: 4 Hours
Day 07 - Deurali to Annapurna Base Camp (4210m/13810ft) Duration: 5 hours
Day 08 - Annapurna Base Camp to Bamboo (2310m/7575ft) Duration: 7 hours
.Day 09 - Bamboo to Jhinu Danda hot spring (1780m/5840ft) Duration: 6 hours
.Day 10 - Jhinu Danda to Pokhara (910m/2985ft) Duration: 5 Hours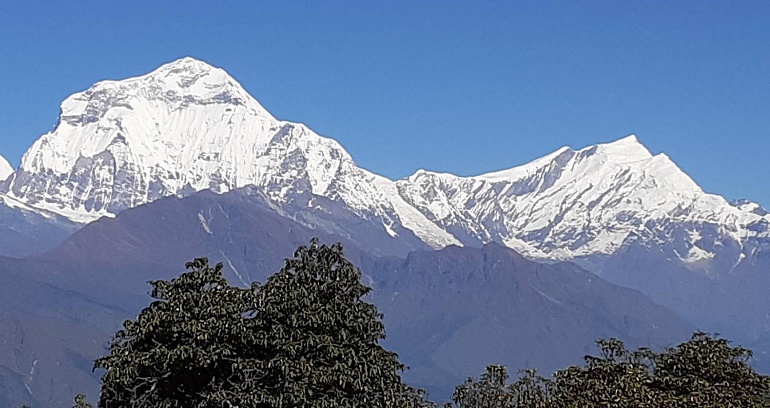 Day 04: Drive from Pokhara to Phedi and Trek to Dhampus ( 1750m) 1 hour drive and 2 hrs trek
Day 5: Trek to Landruk (1565m)
Day 06: Trek to Ghandruk (1940m)
Day 07: Trek/ Ghandruk Jeep Ride to Nayapool and drive back to Pokhara
Quick contact for booking Trekking Tour and all kinds of activities in Nepal:
Nepal Mobile : +9779856070806 ( 24 hours available on Whatsapp, Viber and We chat) Contact Person: Gokul Poudel / Call us Direct
email: enepaltour2020@gmail.com