Our Team
---
We believe in teamwork. The single man is easily defeated but if other join him and unite, then it is almost impossible to lose every kind of challenge in life. So, separated weaker, united stronger and easy to pave the way to success.
eNepaltour Pvt.Ltd has got professional teamwork. The founder, the manager, the correspondence, the airport representative, the guides, the porters and entire team of eNepaltour Pvt.Ltd is equipped with skills and experience how to cater a world class service to the cilinets.
eNepaltour team is committed towards their assigned responsibilities in order to accomplish them promptly.
How is eNepaltour Team?
1. Professional
Each working individual for eNepaltour is highly experienced and professional. What is a profession? They know how reply this question through their duty and responsibilities assigned to them. They are always prompt to accomplish any kind of duty to cater world class service to the clients. eNepaltour is proud to have such professional teamwork.
2. Committed
An employer needs to be committed towards his/her duty which leads one to the peak of achievement in life. So are all employers who work for eNepaltour. Their commitment to posit eNepaltour always at front through hard work has become successful. So , eNepaltour is distinctive from its counterparts.
3. Independent and Self Motivated
Each staff working for eNepaltour can stand on their own even while making a significant decision. Everyone is expert in their own paradigm and they can result something fruitful.
4. Passionate and Optimistic
Passion is a must thing at work and the team of eNepaltour has keen passion to cater the best quality of service to its clients. The guides and the trip leaders always have some sort of passion to discover new tourist destination and offer it to the tourists of the globe. Every staff of eNepaltour is guided by positive thinking. They do have positive vibration in their blood. When sometimes the work becomes work, they wait, see and move ahead with right measures and result is always in their favor.
5 Ethical
The entire team of eNepaltour is morally correct and conscious about universal etiquette. Cheat, scam, wrong teaching, and other treachery and deceit are beyond the imagination. We do fair treatment to everyone whoever it is.
6. Environmentally and Culturally Conscious
We offer various seminars and training on how to preserve and promote local culture and at the same time honor different culture too. Similarly, our entire team is ecologically conscious not to disturb and destroy the virgin nature rather enhance its purity for the sake of entire human being.
Our Team Members
Lila Bista (Managing Director)
Passionate in serving tourists selflessly since his childhood triggered Mr. Bista into Nepal Tourism Industry since 2004. He worked as a porter in these initial days. Because of his relentless effort to offer a World Class service resulted him as a successful tourism entrepreneur within a decade.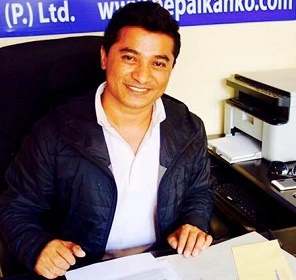 He is always humble, optimistic, hardworking and distinctive. His sole objective is to promote sustainable tourism in Nepal. He all the time suggests his team to cater the most reliable and responsible service promptly.
Originally from a remote part of Dhading district, Mr Bista knows every trekking and tour program in better ways.
Krishna Thapa ( Tour/ Trekking Operator)
This young and energetic fellow handles all sorts of operational tasks. He is expert in operating every kind of trek and tour in different region of Nepal, Tibet and Bhutan. His operation has successfully satisfied the clients so far.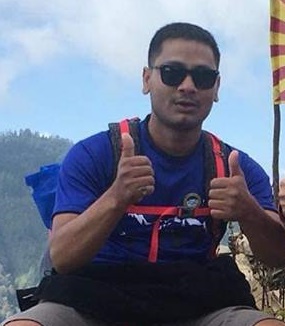 He always thinks of how to operate or organize a particular tour or trekking program in the most exciting and memorable way. There is no such region of trekking in Nepal where Mr. Krishna Thapa has not been and explored. He is academically sound with Master's Degree in Tourism and Travel.
Roshan Thapa ( Trekking Leader/Guide)
Mr. Thapa is a competent and professional government authourised trekking guide for eNepaltour and Nepal Kanko Treks and Expedition Pvt. Ltd. He is a 'A' Grage guide. He knows major every trekking trail in Nepal. His favourite trekking routes are: Ghorepani-Poonhill Trek, Annapurna Base Camp Trek and Everest Base Camp Trek. Besides, he loves to make his trekking to Restricted are trekking in Nepal like Manaslu and Upper Mustang Region.
Mr. Thapa has a good deal of knowledge about various species of flora and faunas. He knows mountain peaks and their elevation. Beisdes, he has a good sense of humor which makes our trip more memorable.
He is eco-friendly, responsible, reliable and has good proficency over language. He is very familiar with different mountain culture, tradition and life style too. His first class leadership and service makes every trekker happy during the trip. He handles every obstacle very patiently.
Durga Bista ( Tour Leader/ Trekking Leader)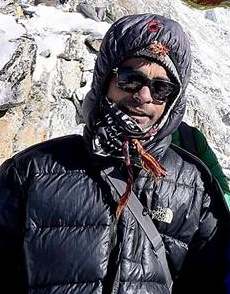 Origionally from Dhading, Mr Bista is a professional tour/trekking guide in Nepal. He has compeleted his Bachelor's Degree in Tourism and Hospotality. He is an 'A' grade tour/trekking guide in Nepal. He has successsfuly leding the tourist form the different countries and resulting his best. He has grand level of knowledge about cultural, religuous and historical heritages of Nepal. His pleasing personality and pfroficent in English and Japanese language fully satisfy the tourists. He loves mountains and mountain also love him.
Ramesh Thapa ( Trekking Leader)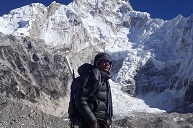 Origionaly from Dhading, Mr. Thapa has been working for eNepaltour for the last 5 years. He is professional, passionate and dedicated trekking leader. He always takes the tourists or trekkers a good care and makes his trekking trips fruitful. He loves to joke and to see smiling faces of of the tourists . He is an 'A' Grade trekking leader in Neapl. He loves to lead his groups to remote areas of Nepal like Mustang, Manaslu, Kanchenjungha, Makalu and Humla.
Bibek Kandel ( Reservation Officer)
Mr. Kandel is always prompt and reliable in making all sorts reservations for eNepaltour.com. He makes no mistakes in his assigned tasks of reservations. Mr. Kandel is academically sound, active and optimistic. He really enjoys his job in fullest. Truly speaking, Mr. Kandel is an asset to eNepaltour.com.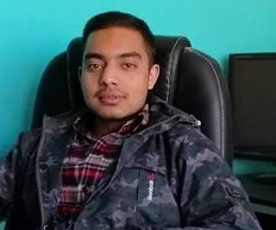 Deepak Thapa ( Trekking Guide/ Leader)
Mr. Thapa started his treking career as a porter in 2006. He was very passionate to serve the tourists. His continuous work in tourism turned him as a successful and professional guide right now. eNepaltour.com is fortunate to find him as one of the team members of it. We wish him a grand success in this life ahead.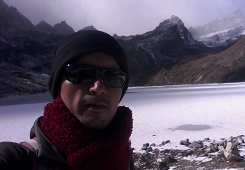 Mr. Thapa is an 'A' Grade guide. He is well trained about local culture and tradition too.