All You Need to Know about Lukla, Lukla Airport and Lukla Weather
---
This article talks about All You Need to Know about Lukla, Lukla Airport and Lukla Weather before heading to any trekking trails in Everest Region particularly, the most popular Everest Base Camp Trek. Hope this article will make your Everest trek a comfortable, memorable and safe.
Lukla airport is considered to be one of the most dangerous airports in the world. Lukla Airport is also popular as Tenjing-Hillary Airport among the people. Majority of the people who come Nepal choose Everest trekking and they use Lukla airport to board on any trekking trail in Everest region. However, some people use the roadway from Kathmandu to Jiri/ Shivalaya or Kathmandu to Salleri/ Phaplu jeep ride. Regardless of this fact, every trekker who is looking forward to undertake their Everest trekking requires to know about Lukla Airport, Lukla Town and Lukla Weather.
Quick contact for booking Flight Ticket to Lukla / Trekking and Tour in Nepal:
Nepal Mobile : +9779851082990 / +9779841718385( 24 hours available on Whatsapp, Viber and We chat) Contact Person: Lila Bista /Krishna Thapa / Call us Direct (email: enepaltour2020@gmail.com)
Lukla Airport is Gateway to Everest Base Camp Trek. It also ways out other treks in Everest region include Everest View Trek, Everest Three Passes Trek, Everest Panorama Trek, Gokyo- Trek and Gokyo- Chola Pass Trek.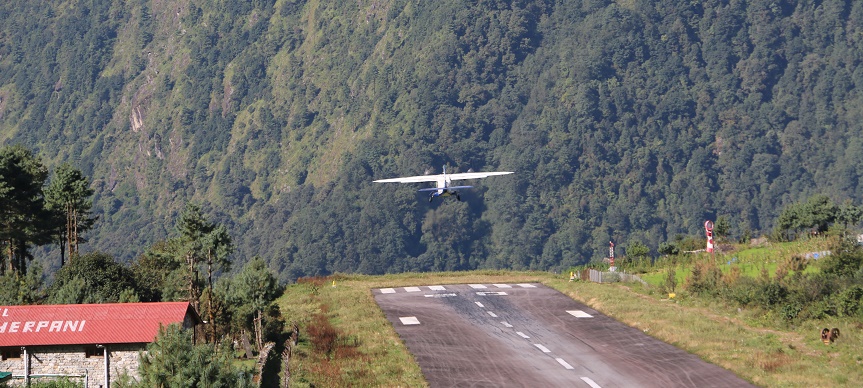 Lukla airport is located on the rocky mountain of Lukla town of Solukhumbu district in Everest region of Nepal. The airport was built under the supervision of Edmund Hillary in 1964. As the local farmers protested against it, Hillary purchased their lands and constructed promising them to provide the facilities. Later on, the airport was renamed Tenjing-Hillary Airpot to mark the honor of first Everest climbers Tenjing Norgay Sherap and Edmund Hillary. The runway is 527 m (1,729 ft) × 30 m (98 ft) and its elevation is 9,334 ft (2,845 m). This is mostly used for the passengers traveling to Everest region including the most popular Everest Base Camp and also for transporting goods to the towns and villages of Khumbu region as there is no road ways.
How do I get from Kathmandu to Lukla?
The most convenient and common way of getting Lukla from Kathmandu is flight from Kathmandu. Lukla flight from Kathmandu airport is operated everyday in the fair weather. Normally, the flights take off early in the morning because the wind, cloud and the poor visibility may interrupt the flights in the afternoon. If the weather is fair for the whole day, different airlines operate Lukla flights throughout the day. The Lukla flight from Kathmandu is for 35 minutes.
Optionally, the other way of getting Lukla from Kathmandu is via roadway. We drive to Jiri/ Shivalaya and trek to Lukla town or we also can drive to Salleri/ Phaplu and take a short flight to Lukla or you can walk from Salleri or Phaplu to Lukla. The drive from Kathmandu to Jiri/ Shivalaya is for 10-12 hours. And, the drive from Kahtmandu to Salleri or Phaplu is 6-8 hrs.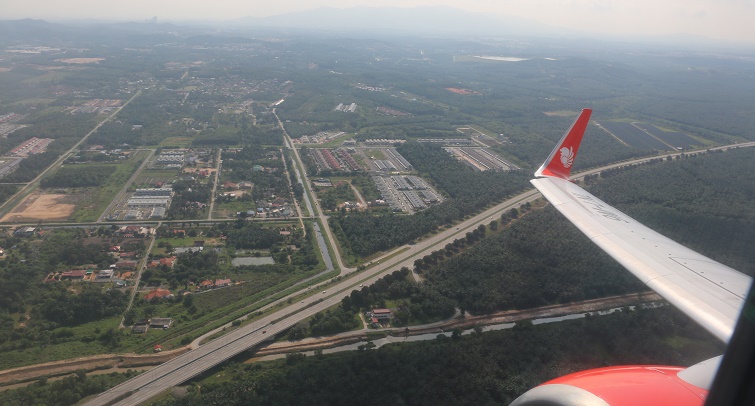 Is there any domestic airport near Lukla Airport?
Yes, Phaplu airport is the closest domestic airport near Lukla Airport in Solukhumbu district. When the Lukla flights are disturbed with poor visibility, the flights are diverted to Phaplu airport.
How far is Everest Base Camp From Lukla Airport ?
Everest Base Camp is 65 km away from Lukla Airport. The round trip is from Lukla to Everest Base Camp to Lukla is 130km. It takes 7 days to get Everest Base Camp from Lukla. We cannot climb to Everest Base Camp quicker than this because we will have a threat of altitude sickness. So, we have to acclimatize our body in proper way before getting high altitude.
Can we see Everest from Lukla?
Many people may wonder whether we see Everest from Lukla. But, we must say 'No'. No, we cannot see Everest from Lukla and Lukla airport. We have trek into Sagarmatha National Park via Namche, Tengboche and Lobuche, then only, we can get Kalapatthar and Everest Base Camp which offers us astonishing Everest. But we can see Everest from Hotel Everest View located just above Namche Bazar.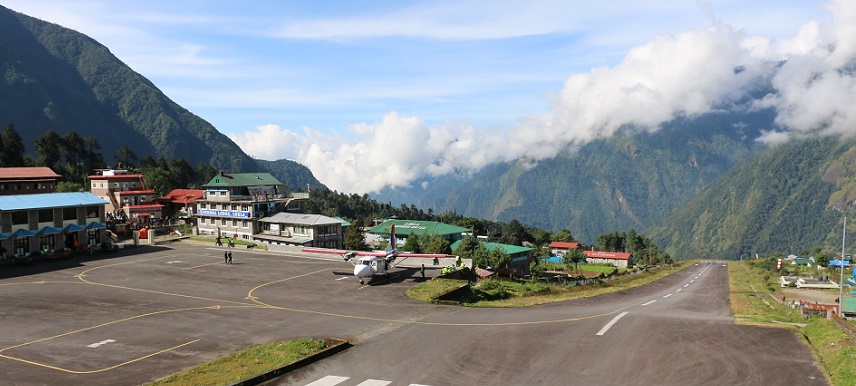 Can you drive from Kathmandu to Lukla?
We cannot directly drive from Kathmandu to Lukla since we don't have roadways to connect Lukla from Kathmandu yet. Optionally, we can drive to lower part of Lukla like Salleri or Phaplu. Salleri Jeep ride is popular among the trekkers to get Lukla from Kahtmandu.
How long is Lukla flight?
The one way Lukla flight is for 35 minutes. It is a spectacular flight witnessing magnificent landscapes and mountain panorama. The flight first heads to Langtang mountain panorama, and next, it heads to Everest region passing via awe-inspiring mountain vistas. Finally, we land at Lukla airport.
How much does it cost to fly from Kathmandu to Lukla?
The flight cost to Lukla depends on the passport that the trekkers hold. For Nepali citizen, the flight fare for Kathmandu Lukla costs RS 6,280 and 140 USD for Indian citizen. For foreigner, the price costs around 180 USD. This cost may, slightly, go up and drop down depending on trekking seasons. During peak trekking season, the Lukla Flight cost goes up and during off season, the cost goes down. Check the availability of Lukla flights and book it.
What is the altitude of Lukla Nepal?
Lukla Airport is located in Lukla Town of Solukhumbu district of Nepal. Its elevation is 9,334 ft (2,845 m) above the sea level. Lukla is the beginning point of all kinds of Everest region trekking including the most popular Everest Base Camp Trek. Trek to Namche from Lukla, pass Tengboche and Lobuche and get to the highest base camp of the world, Everest Base Camp.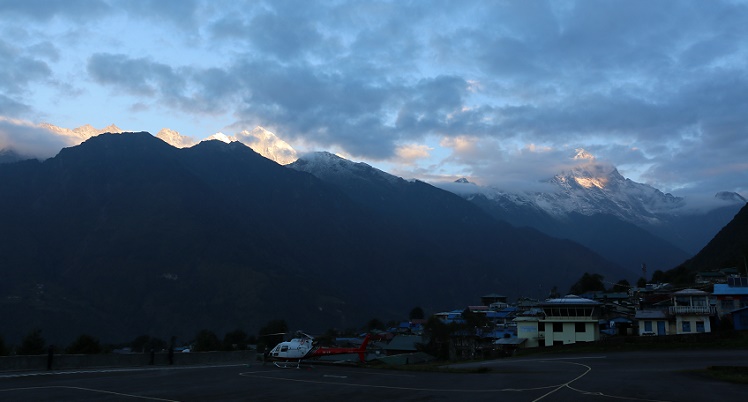 Why Lukla Airport is so dangerous?
Lukla airport is located on the rocky base of Lukla town. The airport has single runway which creates accidents sometimes. Previously, one helicopter and few security personnel were hit by a plane. Actually, the airport is not sufficiently wide to hold the traffics comfortably. The poor visibility, strong wind and the clouds make Lukla airport the most dangerous airport in the world.
How often the Lukla Flights delayed, postponed or cancelled?
The cancellation, delay and postponement of Lukla flights depend on the weather condition of Lukla. So, the Lukla flights are operated early in the morning when there is fair weather. Sometimes, the Lukla flights are postponed continuously for a week. The weather condition of Lukla us always unpredictable. So, it is recommended to have 1/2 contingency days if you are planning for Everest trekking.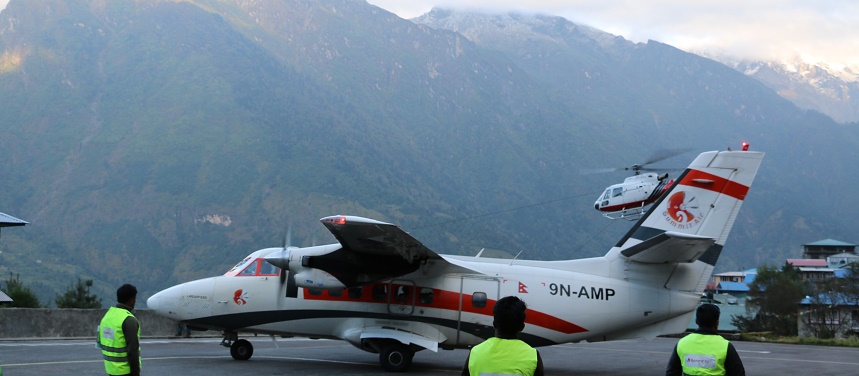 What will be the option if Lukla flight is cancelled?
If the Lukla flight is cancelled due to poor visibility, winds and clouds, either you will board you trip plan to other regions or you can go with helicopter ride. Helicopter ride to Lukla will pave your way to Everest Base Camp or any other destinations in Everest region.
Quick contact for booking Flight Ticket to Lukla / Trekking and Tour in Nepal:
Nepal Mobile : +9779851082990 / +9779841718385( 24 hours available on Whatsapp, Viber and We chat) Contact Person: Lila Bista /Krishna Thapa / Call us Direct (email: enepaltour2020@gmail.com)